Our Key Priorities, Equality and Diversity
At Forty Hill, we have a number of key priorities taken from our School Development Plan. These are shared with the whole school community, with the School Council, all children, Governors, parents and staff working together in order to achieve them.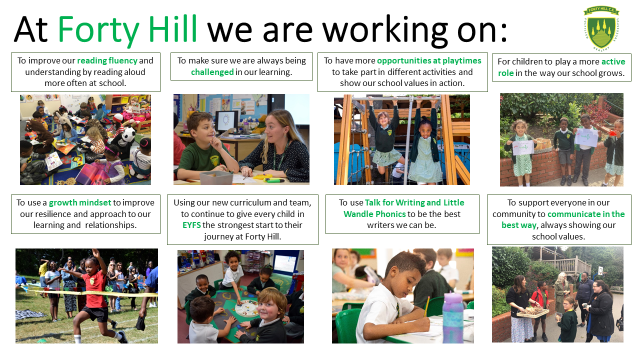 Pupil SEF
Each year, a group of inspiring children work with the school leadership team to produce a Pupil Self Evaluation of Forty Hill School. This is created in line with the Ofsted Criteria and shows what the pupils think of our school. This year 2023-24, our new School Council will be working with Miss Dale to create our new Pupil SEF.
Equality and Diversity
We believe that at Forty Hill CE Primary School, our attitudes and behaviour are based on the fact that every member of the school community is of equal importance in the eyes of God. Each person in all their unique difference should be able to thrive, irrespective of physical appearance, gender, race, religion, ethnicity, socio-economic background, academic ability, disability, sexual orientation or gender identity. Everyone is equal and we treat each other with dignity and respect.
We are committed to promoting the understanding of the principles and practices of equality – treating all members of our school community as individuals, according to their needs, with an awareness of our diverse society and appreciating the value of difference. We actively seek to challenge discrimination and we promote an anti-bullying stance which makes clear the unacceptability of racism, disablism and homophobic, biphobic and transphobic bullying and language.
Our approach to equality is based on the following 6 key principles:
1. All learners are of equal value
2. We recognise, respect and value difference and understand that diversity is a strength
3. We foster positive attitudes and relationships
4. We foster a shared sense of cohesion and belonging
5. We observe good equalities practice for our staff
6. We have the highest expectations of all our children
For more information, please find our Equalities and Diversity Policy below.